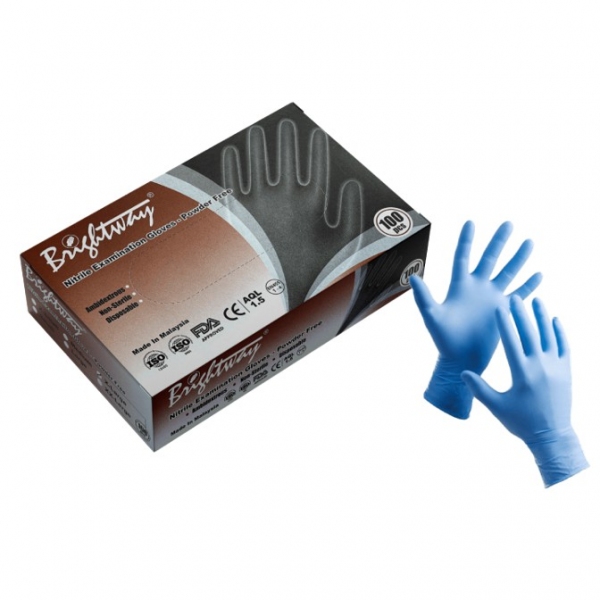 Malaysia Nitrile Gloves Manufacturers Top Factories Direct Large Quantity Available
SPOT LOT BUY OR SHORT FUTURE TRADING
Country of Origin: Malaysia
Certification: CE,ISO
Packaging Details: 100pcs/box, 10boxes/carton
Supply Ability: 7 - 10 40 ft/weekly 245000-350000 boxes/weekly
Size Per Container: S 10-20%, M 30-40%. L 30-40%, XL 5-10%
MOQ: 1 Million PCs, 10000 boxes
https://ClearDIY.ca Nitrile Gloves Factory

https://ClearDIY.ca Nitrile Gloves Production Line

https://ClearDIY.ca Nitrile Gloves Stock Pile

https://ClearDIY.ca Nitrile Gloves

https://ClearDIY.ca Nitrile Gloves

https://ClearDIY.ca Nitrile Gloves

https://ClearDIY.ca Nitrile Gloves

Quality Standards
*Conforms to ASTM D6319 and EN 455 Standards.
*Manufactured under QSR (GMP), ISO 9001:2008 & ISO 13485:2003 (Medical Device) Quality Management System.
*Biocompatibility tested or biocompatibility friendly.
*Resists permeation by a wide range of chemicals as compared to natural rubber latex of the same thickness.
*Full traceability using QMS techniques
Inspection Levels:
- Barrier defect: G1, AQL 0.65 | G1, AQL 1.0 | G1, AQL 1.5
- Major defect: G1, AQL 2.5
- Minor defect: G1, AQL 4.5
Glove Sizes
*Extra-small, Small, Medium, Large, Extra-large.
*Marked in the check box on the shipping carton with black ink
Product Specification
Type

Powder-free (On-line single chlorinated / off-line double chlorinated); non-sterile

Material

Synthetic Nitrile Latex.

Features

Ambidextrous; Finger-textured; beaded cuff; white or coloured
(blue/green/pink/light purple/black)

Storage

The gloves shall maintain their properties when stored in a dry condition at temperature not higher than 30°C.

Shelf-life

5 years from the date of manufacturing
Dimensions
Dimension

Standards

Nitirle Gloves

ASTM D6319

Length(mm)

240 min

220 min (siz XS,S)

230 min(size M,L,XL)

Width(mm)

Extra-small

76 ± 3

70 ± 10

Small

84 ± 3

80 ± 10

Medium

94 ± 3

95 ± 10

Large

105 ± 3

111 ± 10

Extra-large

113 ± 3

120 ± 10

Thickness – single wall (mm)

Fingers

Min. 0.05

Min. 0.05

Palm

Min. 0.05

Min. 0.05
Physical Properties
Property

ASTM D6319

Elongation at break (%)

Before Aging

Min 500

After Aging

Min 400

Tensile Strength(MPa)

Before Aging

Min 14

After Aging

Min 14

Force at Break (N)

Before Aging

N/A
Brightway FingerFlex technology was developed to reduce hand fatigue and increase comfort and dexterity for ultimate control. This revolutionary technology creates a new standard for quality for gloves,
Sterilization
Gamma Irradiation or EO Sterilized
Applications
Chemo Drug Handling, EMS Personnel, Medical, Industrial, Laboratory, Clean Room, OB/GYN
Malaysia Nitrile Gloves
Malaysia is by far the world's largest medical glove supplier, producing as many as three out of four gloves on market. Malaysia has secured its spot in the world market, being home to top glove players, including Top Glove, Hartalega, Kossan Rubber, Supermax, and Brightway and to date, is already exporting gloves to over 195 countries worldwide.

Malaysia remains the world's leading supplier of medical gloves (examination and surgical gloves), supplying more than 50% of the global demand, according to the Malaysian Rubber Export Promotion Council (MREPC). Its data showed that in 2018, Malaysia exported RM16.2 billion worth of gloves and RM1.6 billion worth of surgical gloves.

The Malaysian Rubber Glove Manufacturers Association (MARGMA), an organisation that represents 90% of local glove manufacturers, has forecast that Malaysia will further move up to the global value chain. Its global market share of gloves is anticipated to rise to 68% from 2020. Yearly, the glove industry is anticipated to break in a 15% growth rate.
Top Malaysia Gloves Manufacturers - For Informational Purposes Only
- Top Glove Corporation Bhd
Established in 1991 and headquartered in Malaysia, Top Glove Corporation Bhd is the world's largest manufacturer of gloves. Top Glove has today captured 26% of the world market share for rubber gloves. The company has manufacturing operations in Malaysia, Thailand and China. It also has marketing offices in these countries as well as USA, Germany and Brazil and exports to over 2,000 customers in 195 countries worldwide.
- Hartalega Sdn. Bhd.
Hartalega was started in 1988. Hartalega was the inventor of the world's first lightweight Nitrile glove in 2005, which caused a demand shift from latex to nitrile gloves all over the globe. Hartalega is now the largest producer of nitrile gloves in the world, capable of manufacturing 36 billion gloves a year and will progressively expand to 43.7 billion gloves in 2020.
- Kossan Rubber Industries Bhd
Kossan Rubber Industries Bhd was established in 1979, Kossan is one of the largest manufacturers of latex disposable gloves in the world with an annual production capacity of 28 billion pieces and the largest technical rubber products manufacturer in Malaysia with a total compounding capacity exceeding 10,000 mt.
- BRIGHTWAY HOLDINGS Sdn. Bhd.
BRIGHTWAY HOLDINGS Sdn. Bhd. Established in 1988 comprises of Brightway Holdings Sdn. Bhd. as its Corporate and Administrative Centre, Laglove (M) Sdn. Bhd. and Biopro (M) Sdn. Bhd. as its main production facilities. The group has a total of 41 lines and is capable of producing 230 million gloves per month.
What is Nitrile?
Nitrile is a shortened term for Nitrile Butadiene Rubber, or NBR. Although it is also referred to as NBR latex, there is no natural rubber latex (or latex proteins) in the material. Nitrile is a synthetic rubber copolymer of acrylonitrile and butadiene. These two materials (monomers) are placed in a stainless steel vat, and using hot or cold polymerization, a chemical reaction occurs, and voila! Nitrile is born.
The nitrile latex is filtered and blended with an antioxidant to stabilize the material. Next, the liquid is solidified by adding coagulating agents, then finally washed and dried. The resulting material is referred to as "crumb rubber." Crumb rubber can be liquefied by product manufacturers to make nitrile rubber materials, such as floor mats, footwear, adhesives and gloves.
Nitrile is a synthetic rubber compound that is commonly used as a disposable glove material. Nitrile has been around for a while, but only recently it's become more affordable, which explains why it's gaining popularity throughout medical, food and cleaning industries. Nitrile has a higher puncture resistance than any other glove material. Nitrile glove also has a better chemical resistance than Latex or Vinyl gloves. NITRILE GLOVES are the perfect compromise between latex and vinyl. Nitrile is made from an allergy safe compound that feels a lot like latex but it's much stronger, costs less, and is more comfortable to wear. Nitrile is perfect for demanding applications, especially cleaning and dishwashing. Powder free gloves go through an extra process of chlorinating the gloves to ease donning.
Do you have a latex allergy? Go Latex Free. Now you can get a non-latex disposable nitrile glove without the loose feeling of a vinyl glove. Nitrile gloves are composed from a synthetic rubber which doesn't create the same irritations and allergic reactions as natural latex rubber. Nitrile gloves deliver superior protection, performance, and comfort you can feel - at a more affordable price.
Nitrile alone, without anything added, is a fairly rigid material. So glove manufacturers add a small percentage other chemicals to NBR in order to create a soft, or low modulus, nitrile glove. Over the past decade, these manufacturers have continued to improve their nitrile glove material formulations. Disposable nitrile gloves have grown softer and more elastic. The latest innovations in nitrile glove development include accelerator-free formulations that lower the risk of Type IV contact dermatitis in wearers.
These thin and flexible gloves are what we have all come to rely on to keep ourselves, our patients, products and food items safe. Nitrile gloves are more resistant to oils and acids than natural rubber (latex) gloves. The material is resistant to abrasion and puncture, making it suitably durable for many tasks. Low modulus nitrile gloves also conform well to the hand and provide excellent tactile sensitivity.
Nitrile Exam Gloves
Nitrile gloves are a more hypoallergenic choice. Created from synthetic rubbers, the incidence of nitrile rubber allergy is extremely low. Nitrile gloves are not packed in powder and are easy to handle directly on removal from the box. Nitrile gloves are considered to be the ideal choice in emergency situations when the allergy status of a patient or user is not known. Nitrile gloves are extremely durable and puncture resistant. Nitrile gloves can withstand exposure to oils, solvents, and chemicals which easily destroy natural latex gloves.
Nitrile gloves however are not as soft as latex gloves, and are not known for being easy to wear. In fact, their strength is a weakness when dealing with applications that require fine movements and dexterity. Nitrile is also slightly more expensive to produce.
Nitrile gloves are becoming a standard medical supply for hospitals and emergency personnel. But they are also being used by police officers, security guards, housekeepers, factory workers and veterinarians.
Nitrile Glove vs Latex Glove vs Vinyl Glove
Medical gloves are usually made from polymers such as latex, vinyl and nitrile, although you may find disposable gloves made of other materials, such as neoprene. The following is a quick comparison of nitrile vs. latex vs. vinyl gloves, including the differences in design and their unique benefits.
| | | | |
| --- | --- | --- | --- |
| GLOVE TYPE | DEFINITION | ADVANTAGE | PROTECTION LEVEL |
| Latex Gloves | Made of natural rubber | Highest comfort, flexibility, fit and tactile sensitivity | Bacteria, viruses |
| Nitrile Gloves | Made of synthetic material | Stretchy, durable | Chemicals, viruses |
| Vinyl Gloves | Made of synthetic material, sometimes referred to as synthetic | Cost-efficient synthetic option, comfortable | Chemicals |
Powder-free Gloves vs Powdered Gloves
Powder-free gloves can be more expensive due to the process that needs to be done to remove the powder coating from the glove. However, gloves that are powder-free reduce the cause of allergies by lowering protein and chemical content. In addition, powder-free gloves are 'cleaner' to use than powdered gloves, since they don't leave any residue on clothing or other surfaces.

Powdered gloves are usually lubricated with cornstarch, which makes them much easier to put on. Cornstarch coatings have replaced other powdering options such as lycopodium powder and talc because these other coating types have been found to irritate tissue. Nevertheless, even cornstarch can impede healing when coming into contact with tissues, so powder-free gloves are often preferred for surgeries and other sensitive procedures.

NITRILE GLOVES are the perfect compromise between latex and vinyl. Nitrile is made from an allergy safe compound that feels a lot like latex but it's much stronger, costs less, and is more comfortable to wear. Nitrile is perfect for demanding applications, especially cleaning and dishwashing. The lightly powdered versions are produced with a food grade corn starch powder, making it easier to take them on or off – especially with wet hands. Powder free gloves go through an extra process of chlorinating the gloves to ease donning.
Documents
ASTM D6319 Standard Specification for Nitrile Examination Gloves for Medical Application
010517 Brightway 510(K) Premarket Notification
010517 Brightway Nitrile Examination Gloves, Powder Free (Purple) Tested For Use with Chemotherapy Drugs

Medical Gloves Buyer's Guide
There are two main types of medical gloves; examination gloves and surgical gloves. They can be made from various materials including latex, vinyl, and nitrile. There are advantages and disadvantages to each type of gloves. Consumers should choose the appropriate product depending on their personal needs.
Surgical gloves are primarily used during the operation procedure, protecting the surgeons or the patients from the possible transmission of diseases. The standards for surgical gloves are therefore stricter compared to examination gloves in terms of material selection and manufacturing processes.
Nitrile Surgical Gloves
Nitrile gloves are made out of synthetic rubber as a substitute for the more traditional latex gloves. Nitrile surgical gloves are gaining its popularity in recent years for its numerous advantages, such as causing less of an allergic reaction to hands, more resistant to puncture and corrosivity, compared to latex gloves.
Nitrile gloves are commonly used for medical, clinical and chemical purposes for its tenacity, flexibility and excellent antifouling performance. We list some pros and cons of nitrile gloves below.
Pros
Lower allergy rate compared to latex gloves
Latex-free
BPA-free
Phthalate-free
Chemical resistant
Puncture resistant
Waterproof
Oil-proof
Flexible
Cons
Thicker than latex gloves
More expensive
Latex Surgical Gloves
Latex gloves are made of natural rubber and are often used as protective devices in hospitals and factories Latex gloves are flexible and skin fitting and are preferred for sensitive applications like surgery.
Though the rubber and powdered lubricant used for latex gloves could cause skin irritation issues to a lot of users, latex gloves are still extensively used. The following are some pros and cons of latex gloves:
Pros
Form-fitting and tactile
Durable
Flexible
Skidproof
Cons
Could cause allergies to skin
Nonresistant to chemicals
Nonpuncture resistant
Vinyl Medical Gloves
Vinyl gloves are made of polyvinyl chloride (PVC) or polyvinyl alcohol (PVA). Vinyl gloves are generally disposable and are not as durable as latex and nitrile gloves. The main advantage of vinyl gloves is that they are latex-free and hence will not cause irritation to the user's skin.
In addition, vinyl gloves are cheap to manufacture, soft and non-form fitting but comfortable to wear. However, vinyl gloves are thin and non-resistant to chemicals, punctures, and corrosives and thus not favored by surgeons or medical professionals for surgical purposes.
However, vinyl gloves can be used for medical purposes in low-risk contamination environments. Vinyl gloves are also widely used in food processing industries, restaurants, DIY workshops and serve as the function as a simple barrier to contamination. We have listed some advantage and disadvantages of vinyl gloves below in the following:
Pros
Do not cause an allergic reaction to skin
Waterproof
Oilproof
Cost-effective
Soft texture
Thin-structured
Suitable to handle food
Suitable for everyday use
Cons
Non-resistant to chemical, puncture, corrosive matters
Weak performance in blocking off viruses and bacteria
More delicate and easier to break compared to latex and nitrile gloves
Medical Exam Gloves
Examination gloves are extensively used among healthcare professionals to prevent contamination and pollution during the examination processes.
They can also be used in many other venues to protect users from unsanitary environments, such as blood drawing for blood tests or cleaning.
Examination gloves' quality standards are generally not as high as surgical gloves and are more flexible in terms of materials, sizes, and thickness. Examination gloves can be either sterilized or unsterilized while surgical gloves are generally sterilized.
Chemo Medical Gloves
Chemo medical gloves are designed specifically to handle chemotherapy drugs and protect users from corrosive chemical exposures. Chemo gloves can be made of nitrile or polychloroprene.
It is generally recommended changing gloves every hour when working with cytotoxic drugs or changing gloves immediately when damaged or contaminated.
Reusable Medical Gloves
Generally speaking, medical gloves are disposable for the purpose of keeping sanitation and preventing cross-infection. However, medical gloves might be reusable if they are specially made of it. In the US, the FDA forbids the reusing of medical gloves.
Regulations
European Union
In the European Union, medical gloves are regulated by the Medical Devices Directive. In particular, the Standard EN 455, which is harmonized under the Directive, sets the main testing standards for the product.
The Personal Protective Equipment (PPE) Directive is also relevant for some kind of medical gloves, such as surgical gloves. In this case, the main Standard of reference is EN 374.
United States
In the United States, medical gloves are regulated by the FDA and classified as class 1. While surgical gloves fall under the scope of 21 CFR 878.4460, many other kinds of medical gloves fall under the scope of 21 CFR 880.6250.