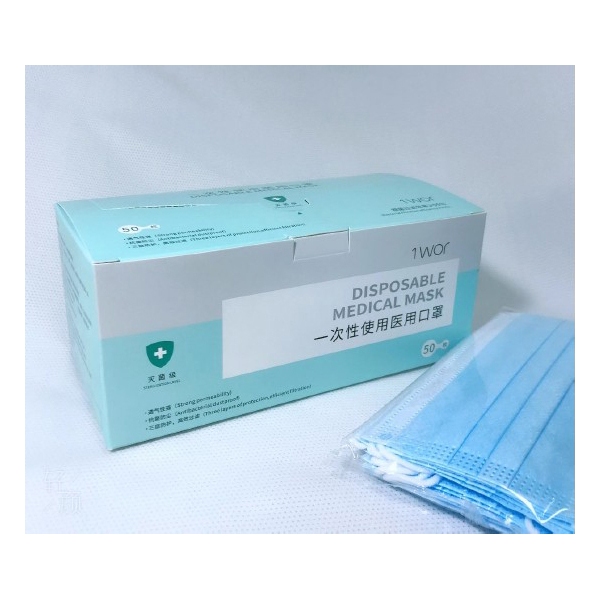 Disposable Medical Mask
Product Name
Disposable Medical Mask
Product Model
17.5cm × 9.5cm
Composition
The medical surgical mask is composed of a mask body, a nose clip and a mask band.
Application
It is worn by clinical medical personnel during non-invasive operation, covering the user's mouth, nose and jaw, and providing a physical barrier to prevent the spread of pathogenic microorganisms, body fluids, particulate matter, etc.
Instruction
Hang the mask strips on the left and right sides of the ears separately
Align the nose clip to the nose, and gently pinch the nose clip to shape it, so that the nose clip is suitable for different face shapes;
Pull and spread the mask folding layer and adjust it to seal and cover the nose and mouth.
Highlight
Non-Sterilized Disposable Medical Mask.
Meet the requirements of YY 0969-2013 "Disposable Surgical Mask".
Precautions
1. Please read the instructions carefully before use, and use it within the warranty period.
This product is non-sterilized, aseptically packaged, and is only for one-time use. Pay attention to check the packaging when using, if the packaging is damaged, it is prohibited to use.
After using this product, it should be disposed of as required by the medical institution or environmental protection department.
This product is a one-time product. It must be replaced with a new one after being worn for 4-6 hours, and it can be discarded after one use.
Storage and Transportation
The packaged medical surgical mask is stored in a room with normal temperature, relative humidity ≤85% RH, and well-ventilated and non-corrosive gas. During transportation, it should be protected from moisture and sunlight.