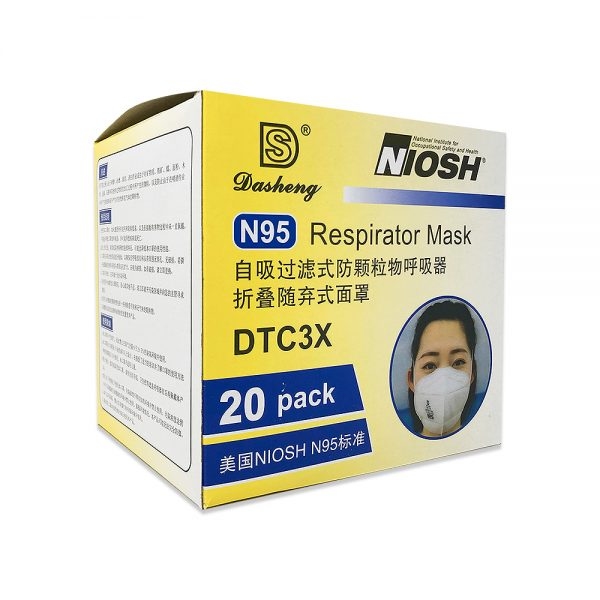 Dasheng NIOSH N95 Respirator Mask DTC3X
Use for non-harmful dust from sanding, grinding, sawing and insulating particles
With a 95% filter efficiency against airborne particles. Not resistant to oil
NIOSH approved N95 respirators with Headband Design

Ultrasonic welding technology, glue-free and odorless, BFE Material.
PACKING
Dasheng NIOSH N95 Respirator Mask DTC3X 20 PCs
Vertical Fold Flat style, 20 PCs per box
20 boxes per case, case dimension 62 x 29 x 34 CM, case weight 4.4 KG
FEATURES
These masks are intended to be used for protection against solids, such as those from minerals, coal, iron ore, flour, and certain other substances. They are extremely durable with a soft and comfortable inner surface; also have an adjustable nosepiece and secured head straps to provide a proper fit.
INFOMATION
Respirators with exhalation valves should not be used in situations where a sterile field is required (e.g., during an invasive procedure in an operating or procedure room) because the exhalation valve allows unfiltered exhaled air to escape into the sterile field. [1]
The use of an exhalation valve reduces exhalation resistance, which makes it easier to breathe (exhale). Some users feel that a respirator with an exhalation valve keeps the face cooler and reduces moisture build up inside the facepiece. [1]
The current NIOSH service-time-limit recommendations for non-powered particulate filter respirators are that filter elements should be replaced at the following frequencies:The service life of all filters on NIOSH-approved respirators is limited by considerations of hygiene, damage, and breathing resistance. All filters should be replaced whenever they are damaged, soiled, or causing noticeably increased breathing resistance.
N-series filters generally should be used and reused subject only to considerations of hygiene, damage, and increased breathing resistance. However, for dirty workplaces that could result in high filter loading (i.e., 200 mg), service time for N-series filters should only be extended beyond eight hours of use (continuous or intermittent) by performing an evaluation in specific workplace settings that demonstrates: (a) that extended use will not degrade the filter efficiency below the efficiency level specified in 42 CFR 84, or (b) that the total mass loading of the filter(s) is less than 200 mg. These determinations would need to be repeated whenever conditions change or modifications are made to processes that could change the type of particulate generated in the user's facility.
For healthcare applications where use is for protection against confirmed or suspected 2009 H1N1 influenza, please refer to: Interim Guidance on Infection Control Measures for 2009 H1N1 Influenza in Healthcare Settings, Including Protection of Healthcare Personnel.
For more information, please see the NIOSH Guidance on Extended use and Reuse of N95 Respirators. NIOSH Guidance on Extended use and Reuse of N95 Respirators.
Dasheng was established in 1997, and now possesses of 20000M2 modern factory plant. Dasheng holds 13 senior engineers and more than 300 sets of mask making machines. Recently Dasheng has developed new auto-matic production lines with 60 machines, and applied for copyrights. All these make the annual capacity of dust mask/ respirators as 200 million pieces, and brought Dasheng to be the leader of mask industry. Products are classified as over 100 items, and exported to USA, Canada, South Africa, Australia, Europe, Japan, Korea, Malaysia, Singapore, Russia, Hongkong, Taiwan, etc over 60 countries and areas.
Dasheng Brand is registered by Chinese People's Republic Brand Bureau and also registered in oversea countries, such as USA, Canada, South Africa, Australia, Europe, Japan, etc. Based on the national standard LD29-2006, GB/T2626-2006, GB2828-87, GB2829-87 and combined with the different standards in different countries, Dasheng masks are developed and manufactured to fit different people with various faces from all over the world.
Dasheng is certified with ISO9001:2008 International Quality Management System. The products meet Europe Standard EN149:2001+A1:2009 with FFP1 NR/ FFP2 NR/ FFP3 NR grades, Australia standard AS/NZS1716:2003 and American standard NlOSH N95/ N99, FDA(510K), Japanese standard DS-2.Dasheng's twin-valve mask, net surface mask, camo-war mask, anti-fire mask, multiple folded mask, anti-virus mask, as well as Hi-tech of foldable structure, whose advantage to enlarge inner space and no move when speaking, have registered for national copyright.
DOCUMENTS
NIOSH-Approved N95 Particulate Filtering Facepiece Respirators
NIOSH HomeThe National Personal Protective Technology Laboratory (NPPTL) Certified Equipment List
NIOSH Respiratory Protective Device Information about Dasheng DTC3X