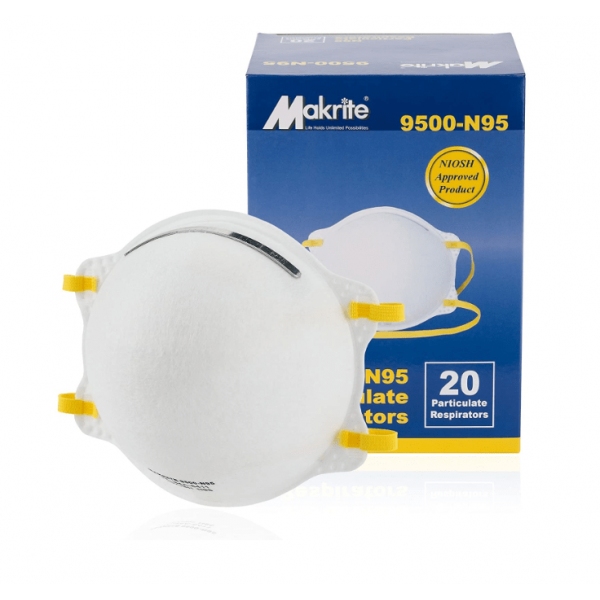 Makrite 9500-N95 NIOSH N95 Respiratory Masks
Makrite 9500 series of NIOSH approved respirators is the "standard" for all the industries in which these products are used. This is the basic N95 product developed to compete with similar appearing disposable respirators. By far, this cone style of N95 mask is the most widely used mask in all work environments.
It has been designed to easily meet NIOSH's stringent approval requirements for breathing resistance and filtration efficiency. Most companies interested in adding N95 respirators to their line of business will select either our 9500 series or the alternative MK series as the focal point around which to build a disposable respirator line.
Features
MAKRITE 9500 N95 TC-84A-5411 Disposable Respirator 20Pcs/Pack
NIOSH certified to have a filter efficiency of 95% or greater for non-oil based particulates
N95 disposable particulate respirator features electrostatically charged microfibers designed for ease of breathing.
Respirators filter the air you breathe to help protect you from microorganisms including bacteria and many viruses.
Technical Specs
Item:

Disposable Respirator

Respirator Filter Class:

N95

Exhalation Valve:

No

Nose Clip:

Yes

Face Seal:

None

Mask Size:

Universal

Nuisance Odor Removal:

None

Respirator Shape:

Molded

Individually Packaged:

No

Fluid Resistant:

No

Color:

White

20 masks per box, 12 boxes in a case, total 240 masks per case
Information
Respirators with exhalation valves should not be used in situations where a sterile field is required (e.g., during an invasive procedure in an operating or procedure room) because the exhalation valve allows unfiltered exhaled air to escape into the sterile field. [1]
The use of an exhalation valve reduces exhalation resistance, which makes it easier to breathe (exhale). Some users feel that a respirator with an exhalation valve keeps the face cooler and reduces moisture build up inside the facepiece. [1]
The current NIOSH service-time-limit recommendations for non-powered particulate filter respirators are that filter elements should be replaced at the following frequencies:The service life of all filters on NIOSH-approved respirators is limited by considerations of hygiene, damage, and breathing resistance. All filters should be replaced whenever they are damaged, soiled, or causing noticeably increased breathing resistance.
N-series filters generally should be used and reused subject only to considerations of hygiene, damage, and increased breathing resistance. However, for dirty workplaces that could result in high filter loading (i.e., 200 mg), service time for N-series filters should only be extended beyond eight hours of use (continuous or intermittent) by performing an evaluation in specific workplace settings that demonstrates: (a) that extended use will not degrade the filter efficiency below the efficiency level specified in 42 CFR 84, or (b) that the total mass loading of the filter(s) is less than 200 mg. These determinations would need to be repeated whenever conditions change or modifications are made to processes that could change the type of particulate generated in the user's facility.
For healthcare applications where use is for protection against confirmed or suspected 2009 H1N1 influenza, please refer to: Interim Guidance on Infection Control Measures for 2009 H1N1 Influenza in Healthcare Settings, Including Protection of Healthcare Personnel.
For more information, please see the NIOSH Guidance on Extended use and Reuse of N95 Respirators. NIOSH Guidance on Extended use and Reuse of N95 Respirators.
Documents
NIOSH HomeThe National Personal Protective Technology Laboratory (NPPTL) Certified Equipment List