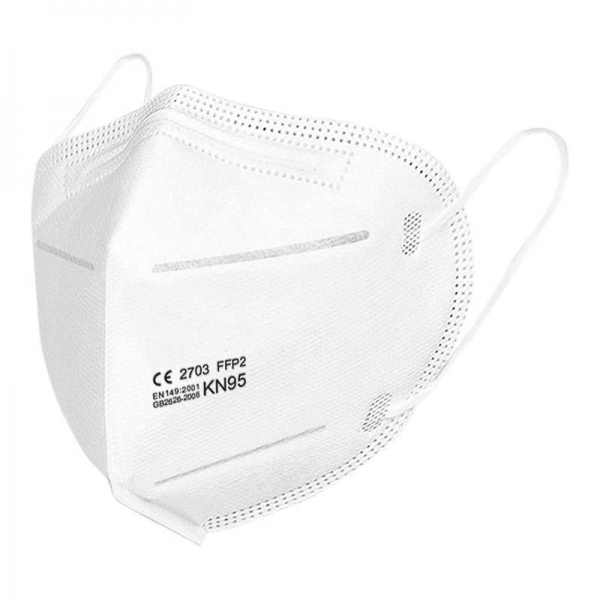 KN95 Safety Masks Dust Face Mask Virus Folding Mesh Mask with Ear Loop N95 FFP2
The KN95 Folding Mask is a KN95 Folding Protective Mask that offers mulitple layers of protection. Designed to be the perfect solution for use in critical environments where the need of protection against unwanted particles is required. The KN95 Face Mask is an anti-dust, anti-disease, anti-pollination, and anti-saliva personal protection product. Manufacturered in a sterile, ultra clean environment where dust free and sterile production is accomplished.
Features
Bacterial filtration efficiency (BFE) ≥95%
4-Layer Filtration that offers a safety guard for breathing
Skin friendly rubber band
Skin friendly fabric
Specifications
Material: Spunbonded cloth, meltdown cloth, hot air cotton
Size: W 108mm x 157mm (Earloop)
Case Specifications: L625 x W355 x H478 mm / 5800g L24.6 x W13.9 c H18.8 inch / 12.8 LBs
Construction: White spunbonded cloth + meltblown cloth + hot air cotton + white spunbonded cloth + earband + nose beam
Shelf life: 2 Years
Standards Met: FDA CE, GB2626-2006, EN149:2001

Manufacturer Lead Time When Not In Stock: 16 days
Information
/K/FFP2 Respirators Information:
/K/FFP2 respirators are recommended by World Health Organization for reducing the spread of Virus.
They are not exactly the same, but equivalent standard. (N is a USA standard, K is a Chinese standard, FFP2 is a European standard).
Filtering facepiece respirators (FFR), which are sometimes called disposable respirators, are subject to various regulatory standards around the world. These standards specify certain required physical properties and performance characteristics in order for respirators to claim compliance with the particular standard. During pandemic or emergency situations, health authorities often reference these standards when making respirator recommendations, stating, for example, that certain populations should use an "K, FFP2, or equivalent" respirator.
* (United States NIOSH-42CFR84 standard)
* K(China GB2626-2006 standard)
* FFP2 (Europe EN 149-2001 standard)
Based on relevant professional organizations comparison and according to the performance requirements specified in the relevant standards, confirmed in the qualification test, it can be proven that the functions of the respirators meeting the relevant standards are very similar.
Based on this comparison, it is reasonable to consider Chinese K, European FFP2 FFRs as equivalent to US NIOSH respirators, for filtering non-oil-based particles such as those resulting from wildfires, PM 2.5 air pollution, volcanic eruptions, or bioaerosols (e.g. viruses).
Documents
Comparison of FFP2, KN95, and N95 Filtering Facepiece Respirator Classes