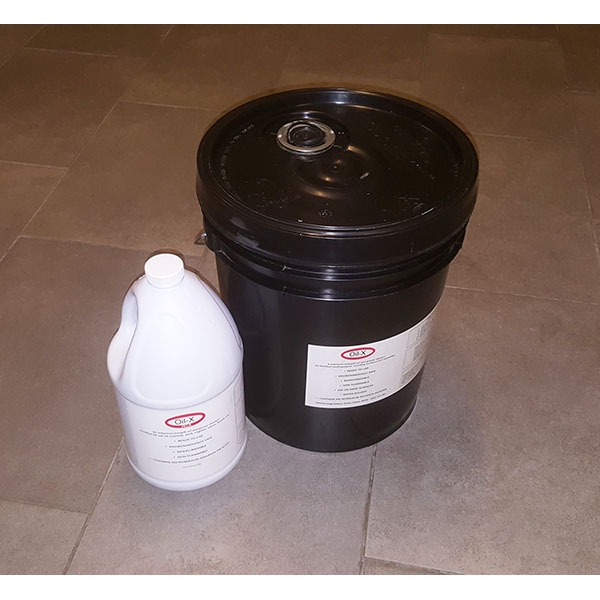 Oil-X Plus is an industrial strength oil and grease cleaner. Oil-X Plus can be used on concrete, asphalt, tools, stoves, hoods, fuel pumps, nozzles and hoses, floors, bathrooms, countertops, walls, lighting fixtures, garbage receptacles, mirror, glass and much more!
Oil-X Plus is A Safe, Citrus based alternative to petroleum solvents. There are many health concern regarding petroleum solvents. Petroleum solvents encompass a wide variety of materials derived from crude oil. Exposures to petroleum solvents have been suggested as potential risk factors of childhood leukemia. Concentrated petroleum solvent vapors may cause irritation of the nose and throat. Prolonged exposure to excessively high vapor concentrations can result in central nervous system depression (e.g., drowsiness, dizziness, loss of coordination, and fatigue). Persons with impaired lung function may experience additional breathing difficulties due to the irritant properties of petroleum solvents.


Oil-X Advantages:
Economical to Use.
Exceeds EPA and OSHA Standards.
Contains No Petroleum Solvents.
Effective In A Wide Range of Applications.
Cost Effective.
Bio-Degradable.
Ready To Use.
Environmentally Safe.
Water-Soluble.
Not Flammable.
Low Alkaline pH Level = 10.
No Organic Solvents.
No Acids.
Non Toxic!
Oil-X Plus can be used to effectively clean mineral, plant, and animal fat based oil in both home and industrial environments. Oil-X Plus contains specially formulated degreasing and cleaning agents that can be used in spray bottle or high pressure washing. It has been widely used as a cost effective and safe alternative to petroleum solvents for degreasing heavy machinery, car parks, driveways, gasoline stations, heavy oil, light oil. Rinse well after Oil-X is used on painted surface.
Dilutions and Directions:
1:1 Heavy Oil Degreasing.
1:1 Heavy Duty Cleaning.
1:1 Drain Degreasing.
1:1 Spot Cleaning.
5:1 Hard to Clean Areas.
5:1 Soap Scum Cleaning.
5:1 Cleaning Tar.
10:1 Engine Degreasing.
10:1 General Purpose Cleaning.
15:1 Carpet Cleaning.
100:1 Mirror and Glass Cleaning.
Indoor/Outdoor Cleaner Solutions:
Fill quart spray bottle 1/4 full with Oil-X and add water to full.
Spray Oil-X Plus directly on soiled areas and wipe with clean rag or cloth.
Mop Bucket Solution:
Use 2-4 ounces Oil-X per bucket.
Mop soiled area. Rinsing is not usually necessary.
Available in 1 Gallon Bottle, 5 Gallons Pail, 55 Gallons Drum.
Oil-X-Plus has the ability to break down hydrocarbon chain. According to an asnalytical report on 8/11/1999: 1000 mgs oil waste was treated with Oil-X-Plus, after the treatment only less than 10 mgs oil content remain was found from the sample.
Oil-X Information: