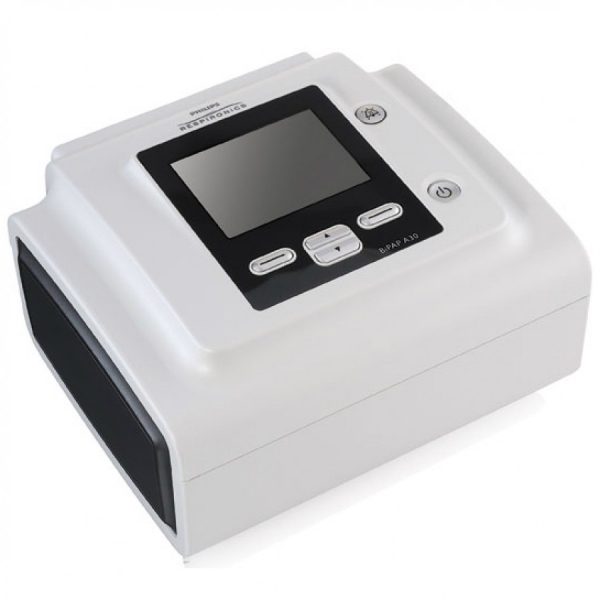 The A30 Philips Respironics BiPAP is the bi - level ventilator that combines ease of use with advanced technologies to ensure the effectiveness of therapy and the patient 's well-being. The bilevel ventilation and all the features of BiPAP A30 are indicated for the treatment of respiratory failure, Obstructive Apnea Syndrome (OSAS), Chronic Obstructive Pulmonary Disease (COPD), Amyotrophic Lateral Sclerosis (ALS) and other restrictive neuromuscular diseases in patients adult and pediatric patients with more than 10 kg. A30 also has the continuous positive airway pressure CPAP mode.
With friendly and intuitive design, the ventilator BiPAP A30 can be used in homes and in clinical settings such as hospitals, sleep laboratories, and treatment facilities. To help doctors to transfer smoothly patients with chronic respiratory insufficiency home from the hospital, the BiPAP A30 connects with other products and software from Philips Respironics.
The BiPAP A30 has enhanced AVAPS to provide and maintain the delivery of accurate tidal volumes. Doctors can now adjust the AVAPS parameters according to the pathology to the fan suits the patient's condition. The BiPAP A30 also includes Auto-TRAK algorithm, well known and clinically tested, with improved technology leakage compensation to accommodate changes in breathing while improving patient comfort.

A complete solution for the care of the patient flow: starting with the titration, transitioning, by the therapy, and with continuous monitoring followed:
Titration
• BiPAP A30 is compatible with polysomnography systems Respironics (Alice PDx and Alice 6) to provide detailed information about patient ventilation
• Compatibility with our oximetry module allows a fine adjustment parameters to configure the ventilation

Transition
• the hybrid ventilation AVAPS provides an innovative solution to help stabilize the patient and facilitate the transition from hospital to home
• the intuitive screen, friendly and low noise helps integration in the patient 's home, improving comfort and adherence

therapy
• clinically tested, the Auto-TRAK and leakage estimation technologies improve the timing of the fan with the patient
• the AVAPS delivers the right pressure at the right time for the needs of patients are met and comfort is preserved
• the Moisture Control system One and the unique system "Dry Box" provide umidificaç will be heated to reduce condensation of air and water leakage in the equipment to optimize adherence and patient comfort (OPTIONAL)

Follow
Philips offers a complete portfolio data management enables the monitoring of the patient at home and helps identify when any adjustment is necessary to maintain effective treatment:
• EncorePro and DirectView software - short trend reports and long-term patient ventilation (up to 72 hours of waveforms - just in DIRECTVIEW)
• Systems PSG Alice - detailed information on ventilation the patient combined with PSG signal
• Connectivity oximetry module to monitor SpO2 and heart rate on the equipment screen, and relates desaturation events with other data ventilation when needed
Maker:

Philips Respironics

Operating mode:

BiPAP Did

Noise level:

< 30 dBA a 10 cmH2O

Warranty:

24 months

ANVISA Registration:

10216710216

Ventilation modes:

CPAP, S, S/T, T, PC + a função AVAPS

Pressure range:

IPAP 4 a 30 cm H2O
EPAP 4 a 25 cm H2O
CPAP 4 a 20 cm H2O

Sets fixed pressure: Sim

Sets Automatic Pressure: No