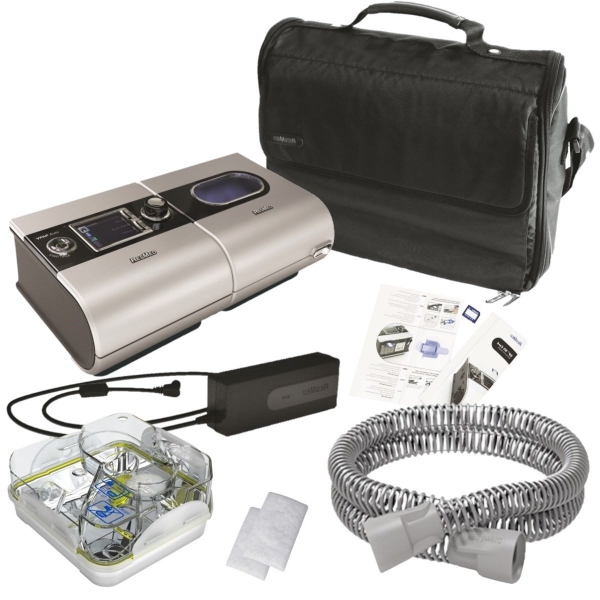 ResMed S9 AutoSet™ CPAP Machine with H5i™
Copy of RX Required if Applicable to U.S Residents
The ResMed S9 AutoSet™ with Humidifier is an auto adjusting CPAP model used for the treatment of sleep apnea. All product information for this model can be found below. Extended warranty option available on CPAP and BiPAP Machines. S9 is a continuous positive airway pressure CPAP machine.
---
New Product Information Listed Below
The ResMed S9 AutoSet™ with H5i™ Humidifier features user-friendly technology to enhance your breathing comfort and reduce system noise. Designed for a more natural breathing experience, the S9 AutoSet™ enhanced Easy-Breathe technology delivers whisper-quiet therapy from the device to the mask. This means a more restful night for both you and your partner. With its sleek contours and compact size, the S9 AutoSet™ looks as natural at your bedside as a clock radio. ResMed CPAP Machines are known to be one of the best CPAP Machines in the world. Their advanced technology has surpassed many of its competitors.
---
Important Facts About The S9 AutoSet™
All ResMed S9 Series Units have a self-converting power source for use in the United States and international (will need a plug adapter to countries outside of the U.S.)
---
ResMed S9 Enhanced AutoSet Features
The S9s enhanced AutoSet algorithm now differentiates between obstructive and central sleep apneas (CSA) and responds appropriately. You can be confident that you're always receiving optimal therapy at the lowest, most comfortable pressure.
The S9 AutoSet™ combines an intelligent algorithm with Easy-Breathe expiratory pressure relief (EPR) to dynamically adjust pressure for maximum comfort. Using ResMed's time-tested APAP technology, AutoSet™ continually monitors breathing, adapting breath by breath to always deliver the lowest therapeutic pressure, improving comfort and sleep.
CSA detection is now available in both the S9 AutoSet™ and S9 Elite™. It uses the forced oscillation technique (FOT) to determine the state of the airway during an apnea. When apnea is detected, small oscillations are added to the pressure to measure airway patency. The CSA algorithm uses the resulting flow and pressure to measure airway patency and differentiate central and obstructive events.
---
Included In This Package
(1) S9 AutoSet™ CPAP Machine
(1) H5i™ Heated Humidifier
New S9 Pollen Filters
(1) Power Supply
(1) Travel Case
(1) New SlimLine™ Tubing
(1) New H5i™ Water Chamber Tub
Instruction Manual
90 Day Warranty
---
Frequently Asked S9 Autoset Questions
Q: Can I use my ResMed CPAP system in other countries?
A: All ResMed CPAP systems have a power supply that automatically adjusts to the various power supplies in different parts of the world. All devices will accept 100-240V, 50-60Hz, without any special adjustment.
Please note:
You will need to use the correct plug adapter for the power outlet of the country you are visiting.
This does not apply to the C-Series Tango humidifier. It will only function at 110V.
Q: Will the x-ray scanners at the airport security affect my CPAP device?
A: No. The x-ray scanners will not harm your CPAP device. However, Security may require you to show the medical statement from your physician verifying that you are carrying medical equipment. Make sure this is handy.
Q: Can I operate my ResMed device with a battery?
A: Yes. ResMed's range of S8 and S9 products can operate with an inverter or converter. Earlier products, such as the S7 series, will only work with inverters. ResMed has converters available for its range of S8 and S9 products. The converters allow you to operate your device from a 12V or 24V DC power source in a car, boat or other vehicle equipped with a suitable battery.
---
S9 AutoSet Features
Quietness Of The ResMed S9 AutoSet™
S9s enhanced Easy-Breathe motor eliminates noise, creating a quiet and peaceful environment for you and your bed partner.
The S9 Series includes an enhanced Easy-Breathe motor. Now featuring axial air-flow, the enhanced Easy-Breathe motor produces less turbulence. The innovative design features foam and noise isolating materials incorporated into the base of the S9. The result is simple less noise.
Radiated noise levels (the sound in the room) are the same as ResMed's market-leading S8 II Series. With noise levels at 24 dBA*, the S9 Series is no louder than normal breathing. Conducted noise levels (the noise through the tube) have been further reduced by 78%!* The result: a peaceful nights sleep.
Intuitive Design
Sophisticated technology combines with novel user-friendly controls in a stylish new design that departs dramatically from its predecessors.
An intuitive interface makes it a breeze to adjust settings and customize levels:
Turn push dial until the parameter you require is displayed in blue.
Press push dial. The selection is highlighted in orange.
Turn push dial until you see the setting that you require.
Press push dial to confirm your choice.
Compliance Management Of The ResMed S9 AutoSet™
Patient compliance is the primary focus of S9 data management systems. The S9 Series offers three ways to prove patient compliance:
Data on the device - via the Sleep Quality Indicator and Sleep Report. Visible via the user interface, the Sleep Quality Indicator allows patients to view a snapshot of their therapy. Designed to provide daily feedback and encouragement, the Sleep Quality Indicator identifies usage, leak, and AHI information. The Sleep Report offers compliance and therapy data for up to 365 days. Data available includes average usage, used hours, days used, run hours and pressure.

The S9 Series is shipped with an SD card inserted. It provides detailed graphical data and high-resolution flow data.
The S9 SD Card Stores
365 days of therapy and compliance data (summary and statistics)

30 days of detailed data (graphs)

7 days of high-resolution flow data

Modules for direct and remote download
Climate Control Feature
H5i™ Humidifier Included with this purchase
ClimateLine™ Heated Tube Included with this purchase
S9 Climate Control system intelligently adapts to your environmental conditions and delivers optimal temperature and humidity right to the mask. It protects you from rainout without compromising humidity and provides the most comfortable therapy possible.
S9 Exclusive ClimateLine™ Heated Tube The ClimateLine™ heated tube is the key technology in the Climate Control system. It contains revolutionary technologies never before seen in CPAP tubing that enable the delivery of Climate Control and unsurpassed patient comfort. The ClimateLine™ tube includes a sensitive heating circuit, which is automatically controlled by the Climate Control algorithm to deliver a constant comfortable temperature at the mask. Located at the mask end of the tube, a sensor measures the temperature of the air leaving the tube. Unique to ResMed, this feature offers complete temperature and comfort control.

Enhanced H5i™ Humidifier The H5i™ heated humidifier delivers market-leading performance. Designed to seamlessly integrate with the S9, the H5i™ offers relief from dryness and congestion. The H5i™ senses ambient temperature and humidity in the bedroom.

Humidification When you breathe normally, your nose and upper airway add heat and moisture to the air. By the time it reaches your lungs, air should be at body temperature (37°C or 99°F) with 100% relative humidity (44 mg/L). During therapy, higher air pressure can overwhelm your upper airways ability to heat and humidify the air. Colder, dryer air can cause a sore throat, dry nose, mouth or throat, nasal congestion, and a runny nose. 30 - 70% of patients experience these symptoms.
---
Compatible CPAP Batteries & S9 DC Converters
Did you know that you can run your ResMed S9 AutoSet™ CPAP machine with a battery? ResMed has manufactured an S9 Power Station kit specifically for the S9 series. This gives you the freedom to treat your sleep apnea wherever you are.
The power station kit has the capability of coupling batteries together as well for long-lasting power. This is a must-have product if you live in an area that is frequented by storms and power outages. Don't go without your therapy. You have made a commitment to treating your sleep apnea so don't let a storm or power failure stop you from getting the good nights sleep you deserve.