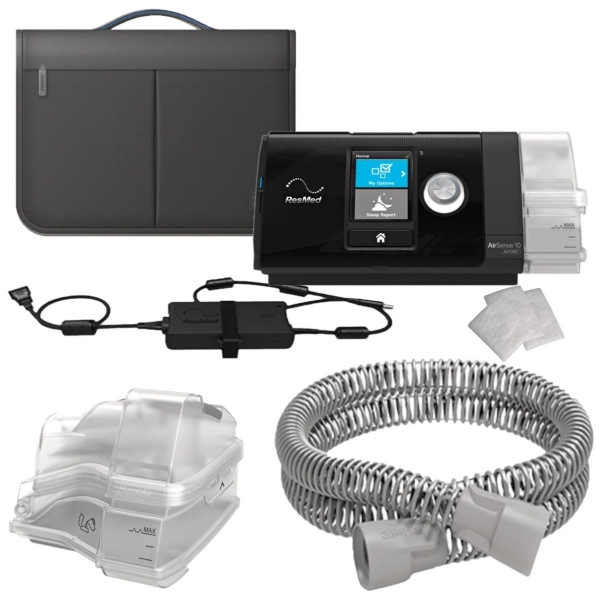 ResMed AirSense™ 10 AutoSet™ CPAP S10
Copy of RX Required if Applicable to U.S Residents
Product Description
This AirSense™ 10 AutoSet™ with Humidifier is a model used for the treatment of sleep apnea. This is an Auto-Adjusting continuous positive airway pressure CPAP machine that increases and decreases pressures based on your needs. All product information for this model can be found below. Extended warranty option available on CPAP and BiPAP Machines.
The new S10 series is here! Technically referred to as the AirSense™ 10, this model replaces the previous S9 series and has been anticipated for a long time taking the S10 name. The S9 model has been so successful and highly rated it was hard to imagine what ResMed could do differently to improve a newer model. We will list the highlights of these changes below as well as the manufacturer's product information description and details.
AirSense™ 10 AutoSet™ is a CPAP machine that automatically adjusts (increases and decreases) pressure settings as determined by an algorithm that detects airway closure. This technology is great for new and old users of therapy. New users benefit from a device that allows them to acclimate to pressure without the feeling of being overwhelmed by higher air settings. The air blowing through the device and the compliance information can be downloaded while indicating an optimal pressure range or fixed setting if your doctor indicates you should stay on one setting throughout therapy.
From a design standpoint, the angle of the display screen makes it easier to view or adjust settings via the LCD display while laying in bed with the machine on your nightstand; the S9 series display was on top of the unit. The built-in humidifier with water chamber tub that sticks out on the side makes it easier to check your water level and refill as opposed to the prior model where a separate casing made you open the device to fill the water chamber or water level mark.
---
AirSense™ Series Features
HumidAir integrated heated humidifier is built into the CPAP device. You can use the ClimateLine™ Air heated hose tube or a standard SlimLine™ lightweight hose tube.

AutoRamp technology starts your therapy pressure at a low setting and increases therapy pressure once sleep onset is detected. This is a great feature for new CPAP users to adjust to pressure as they wake up throughout the night. The device will drop the pressure to allow the user to get back to sleep faster without the feeling of an overwhelming high pressure setting and without the need to manually hit the ramp button again.

ClimateLine™ Air The integrated heated humidifier is now a standard feature and the option to purchase with standard SlimLine™ hose tubing or ClimateLine™ heated hose tubing. The heated line tubing is great for people that are sensitive to dryness from the use of CPAP and it promotes humidity throughout the entire hose.

Advanced Event Detection can tell the difference between obstructive sleep apnea events or central apnea events (central sleep apnea is treated with Bi-level therapy or ASV therapy and is most often not treated with standard CPAP pressure).

SmartStart allows you to simply put the mask on and start breathing which will initiate the device to turn on automatically and begin therapy. Please note: this setting is not activated when we ship your device unless you specify otherwise.

Wireless Data Transmission: Transmits compliance data via a wireless signal (Only available for use in the United States).
---
Included In This Package
(1) AirSense™ 10 AutoSet™ CPAP with Humidifier
(1) New CPAP Hose Tubing
New Filter
(1) New Water Chamber Tub
(1) Travel Case
(1) Power Supply
Owner Manual
90 Day Limited Warranty
---
Optional Accessories For Purchase
Cleanable Water Chamber Tub
SD Card Reader
DC/DC Converter
Standard and Hypo-Allergenic Filters
Hose Tubing Options: ClimateLine™, SlimLine™, and Standard
---
Indications For Use AirSense™ 10 AutoSet™
The AirSense™ 10 AutoSet™ self-adjusting device is indicated for the treatment of obstructive sleep apnea (OSA) in patients weighing more than 66 lb (30 kg). It is intended for home and hospital use. The humidifier is intended for single patient use in the home environment and re-use in a hospital/institutional environment.
---
Contraindications
Positive airway pressure therapy may be contraindicated in some patients with the following pre-existing conditions:
severe bullous lung disease
pneumothorax
pathologically low blood pressure
dehydration
cerebrospinal fluid leak, recent cranial surgery, or trauma.
---
Possible Adverse Effects
You should report unusual chest pain, severe headache, or increased breathlessness to your prescribing physician. An acute upper respiratory tract infection may require temporary discontinuation of treatment.
The following side effects may arise during the course of therapy with the device:
drying of the nose, mouth, or throat
nosebleed
bloating
ear or sinus discomfort
eye irritation
skin rashes
---
Recommended Replacement Schedule:
Hose:

Every 1-3 Months (or as needed)

Filter(s):

Every 1-3 Months (or as needed if noticeable build up)

Water Chamber:

Every 6-12 Months (or as needed)

Mask

: As Needed