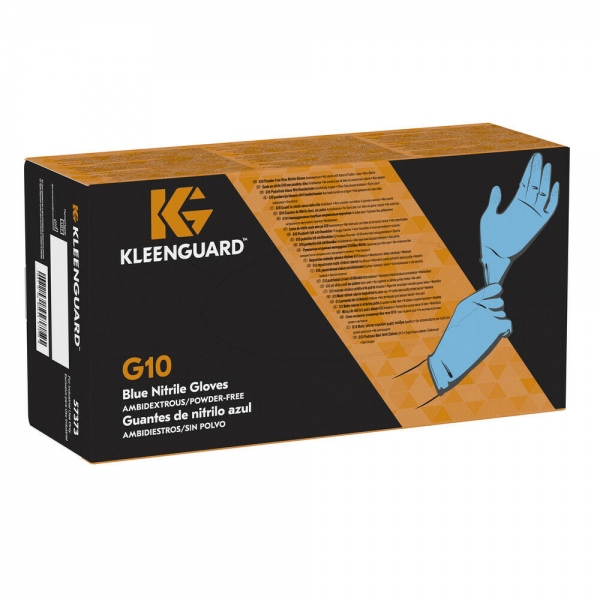 KleenGuard G10 ESD-Safe Nitrile Textured Gloves
| | |
| --- | --- |
| COUNTRY OF ORIGIN | : Malaysia |
KleenGuard Personal Protective Equipment (PPE) enables rather than inhibits – allowing for maximum productivity and safety for you and your employees. Your employees are your most valuable asset, and KleenGuard G10 Blue Nitrile Gloves help keep them safe. These top-selling protective gloves are resistant to oils and splashes, making them a great choice to help protect your team. Your employees can use them with confidence. Thanks to the smart design, these powder-free, ambidextrous blue nitrile gloves guard against some accidental splashes and feature a 6 mil thickness for both comfort and protection. The textured fingertips give employees a grippable surface for dexterity while performing sensitive tasks. The beaded cuff helps prevent roll-down and makes the gloves easier to don. They are available in a variety of sizes (including XS, small, medium, large and XL) and are 9.5" long. The gloves are not made with natural rubber latex, so they reduce concern for people with a Type 1 Latex allergy. These blue nitrile gloves are a leading choice across a variety of industries because they are comfortable to wear, provide excellent tactile sensitivity and deliver reliable protection for the task at hand. Making the right Personal Protection choice is difficult. Perform with distinction with KleenGuard Personal Protective Equipment (PPE).
KleenGuard G10 Blue Nitrile Gloves are 6 mil, which offer comfort and protection in a variety of industries, such as in laboratories, university labs and pharmacies; 10 boxes of 100 gloves per case (1,000 total)
These powder-free, ambidextrous gloves are approved for food handling, per US FDA regulations and per Health Canada food regulations (CFIA approved)
Textured fingertips give technicians dexterity and control when performing delicate tasks and come in a variety of sizes (extra-small, small, medium, large and extra-large)
Beaded cuffs prevent roll-down and help alleviate concerns of contamination, making them a protective glove for sensitive tasks
The blue nitrile gloves are not made with natural rubber latex, helping reduce worry from Type 1 Latex allergies
The production of printed control boards (PCB) requires that the surrounding environment is safe from electrostatic discharges (ESD) as much as possible. An ESD of as little as 30 volts has been known to cause to damage to electronic components in a PCB during its production, storage, and/or shipping stages.
ESD, or electrostatic discharge, is the transfer of an electric charge that takes place when two objects that have been charged to different electric potentials, or have different electric potentials due to static induction, are brought into contact with each other. This discharge can cause product defects as well as equipment failures. The most common example of damage caused by electrostatic discharge is when a person or tool that is charged touches a grounded device which has a low resistance to static electricity.
There are four steps that can be taken to help control electrostatic discharge. They are as follows:
1. Grounding of any person that may come in contact with ESD sensitive devices.
2. Grounding of the working surface including any tools being used.
3. Remove from use any materials in the work area that can create static electricity.
4. Place ESD sensitive devices in the appropriate protective packaging when moving them from areas where the above 1-3 above are being enforced.
The Kimberly-Clark Professional 57370 are G10 series, XS size, blue nitrile gloves. The ambidextrous, powder free gloves feature textured finger tips and are great for a variety of uses including food handling, electronic assembly, painting, manufacturing and more.
Kimberly-Clark Professional 57370 Features:
Brand: KleenGuard
Series: G10
Product Type: glove
Material: Nitrile
Material Category: Plastic
Cuff Type: Beaded
glove Pattern: Ambidextrous
Latex Free (Yes/No): Yes
Powdered: Powder Free
Finish: Textured
Color: Blue
Primary Color: Blue
Overall Length: 9.5in
Thickness: 6mil
Standards Met: ASTM D 6319, ASTM D 3578, 2.5 AQL, CFIA Approved, U.S. FDA Regulations Approved
Package Quantity: 100BX
Package Quantity1: 10BX/CA
Recyclable through the Kimberly-Clark Professional RightCycle Program, which turns used KC nitrile and latex gloves, apparel and eyewear into raw materials for eco-friendly consumer products.