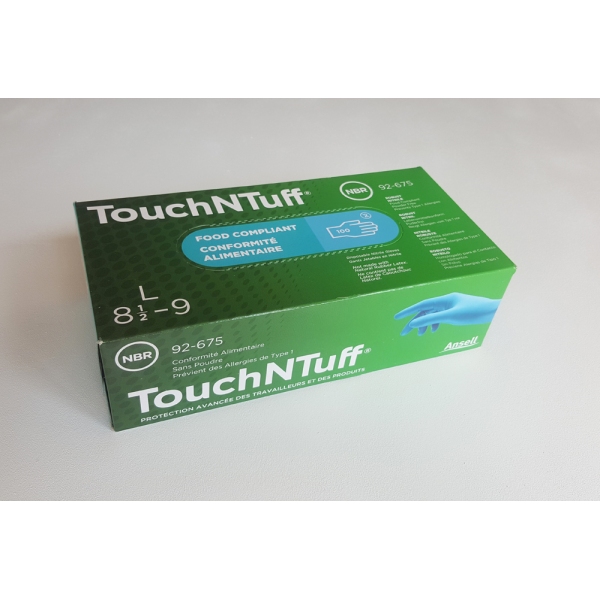 Ansell Nitrile Gloves Food-Compliant 92-675
Disposable nitrile gloves that offer robust protection for food processing and heavy-duty jobs
KEY FEATURES AND BENEFITS
Superior chemical splash protection
Soft, durable nitrile material for added comfort
Textured fingertips provide secure grip
Complies with FDA food handling requirements
Also available in packaging to fit vending machines
Nitrile Glove vs Latex Glove vs Vinyl Glove
Medical gloves are usually made from polymers such as latex, vinyl and nitrile, although you may find disposable gloves made of other materials, such as neoprene. The following is a quick comparison of nitrile vs. latex vs. vinyl gloves, including the differences in design and their unique benefits.
| | | | |
| --- | --- | --- | --- |
| GLOVE TYPE | DEFINITION | ADVANTAGE | PROTECTION LEVEL |
| Latex Gloves | Made of natural rubber | Highest comfort, flexibility, fit and tactile sensitivity | Bacteria, viruses |
| Nitrile Gloves | Made of synthetic material | Stretchy, durable | Chemicals, viruses |
| Vinyl Gloves | Made of synthetic material, sometimes referred to as synthetic | Cost-efficient synthetic option, comfortable | Chemicals |
Powder-free Gloves vs Powdered Gloves
Powder-free gloves can be more expensive due to the process that needs to be done to remove the powder coating from the glove. However, gloves that are powder-free reduce the cause of allergies by lowering protein and chemical content. In addition, powder-free gloves are 'cleaner' to use than powdered gloves, since they don't leave any residue on clothing or other surfaces.

Powdered gloves are usually lubricated with cornstarch, which makes them much easier to put on. Cornstarch coatings have replaced other powdering options such as lycopodium powder and talc because these other coating types have been found to irritate tissue. Nevertheless, even cornstarch can impede healing when coming into contact with tissues, so powder-free gloves are often preferred for surgeries and other sensitive procedures.

Disposable Food Safe Gloves
The FDA Food Safety Modernization Act (FSMA) was introduced in 2011, aiming to prevent food contamination and subsequent foodborne illnesses rather than just respond to it. One overlooked element within the FSMA is disposable gloves. Labeled as intermittent contact items, the risk of contamination from these products is not seen as great enough to warrant close observation.
However, growing scientific evidence shows disposable gloves, in direct contact with food, can and do affect food safety, with around 15 percent of food service foodborne outbreaks implicating contaminated gloves as contributory factors in the outbreak.
Are Food Service Gloves Food Safe?
The AQL of a disposable glove is the "Acceptable Quality Level" and refers to a quality standard for measuring pinhole defects. Glove manufacturers test a random sample of gloves from a batch during initial production. The lower the AQL, the less defects gloves have. An AQL of 1.5, for example, requires that gloves be manufactured with no more than 15 failures for every 1,000 gloves produced.
In comparison to medical or examination grade gloves, no formal government regulations or inspection program exists for food service gloves over and above the FDA Title 21 CFR Part 177 regulation. There is no AQL requirement for food service gloves, meaning there are no guidelines for maximum pinhole defects—no guidelines for the number of failures per box.
Glove Holes and Food Contamination
Moreover, the human skin is a rich environment for microbes consisting of around 1,000 species, and the skin surface can contain on average 2 million to 10 million microorganisms. Most are resident species, some with the potential to cause disease (Staphylococcus spp. or Streptococcus spp.), but transient pathogens are the driver of foodborne infection transmission.
Organisms can become resident colonizers on hands, and combined with a glove puncture, a "liquid bridge" of microbial contamination can flow to contact surfaces of food.
Studies have shown up to 18,000 staphylococci can pass through a single glove hole during a 20-minute period, even though the hands had been scrubbed for 10 minutes prior to gloving. With more than 250 different foodborne diseases associated with food or drink, there is ample opportunity for leaky gloves to share responsibility for transmission.
In-use glove studies show that 50-96 percent of glove punctures go undetected by wearers, with the potential to release tens of thousands of bacteria from internal glove surfaces to food.
Consider the following when procuring your disposable gloves to lower the risk of adverse foodborne events.
Only choose disposable gloves with an AQL of 2.5 or less—pay for gloves that are suitable for food handling. The cost of an inferior glove is low, but failure rates can be high.
Beware of cheap imports that may be reject clearance lines—you may be paying for glove failures and the potential spread of bacteria and virus.
Prevent glove fraud by purchasing from reputable suppliers with quality control procedures in place and known raw material content of gloves.
Purchase cost-effective nitrile gloves to reduce the risk of cross-contamination of food.
Following correct hand hygiene is essential. Effective handwashing procedures, including washing around and under fingernails, limit microbes exposed to the damp inner glove environment.
Documents
ASTM D6319 Standard Specification for Nitrile Examination Gloves for Medical Application