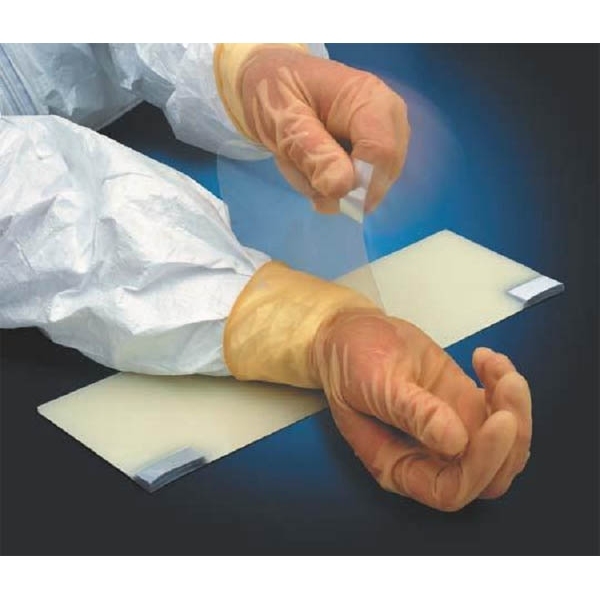 Cuff Sealer is a new, flexible, poly film disposable fastening device used to effectively seal the area between the glove and the garment. The flexibility of the Cuff Sealer allows easy donning for different size arms, keeping a snug fit and preventing not only particulate migration, but also infiltration of chemical product and contaminants. Cuff Sealer is a fast, easy way to achieve additional contaminant protection in Class 100 environments. Lab technicians may find Cuff Sealer easier to be applied than the traditional Cuff Sealing Tape.
BENEFITS AND FEATURES
Flexibility of the 1.5 mil poly film allows a comfortably snug fit on all size arms
60 sheet pad with adhesive backed base to secure to a convenient surface
Adhesive coated, 2 mil clear polyethylene sheets with white backing
Alternating color tabs on both ends minimize accidental peeling of multiple sheets
Standard size: 13" X 4.25" (330 x 108 mm)
Custom sizes are available
Cuff Sealer - pad
Sizes
13" x 4 1/4"
Colors
clear sheets with white backing to secure to table top
Packaging
60 sheets per pad, packaged 6 pads per box
Cuff Sealer - perforated tape rolls
Sizes
2" wide rolls with perforations every 18". Rolls are 300 feet long on plastic cores.
Colors
clear sheets
Packaging
Packaged 24 rolls per case.
DOCUMENTS