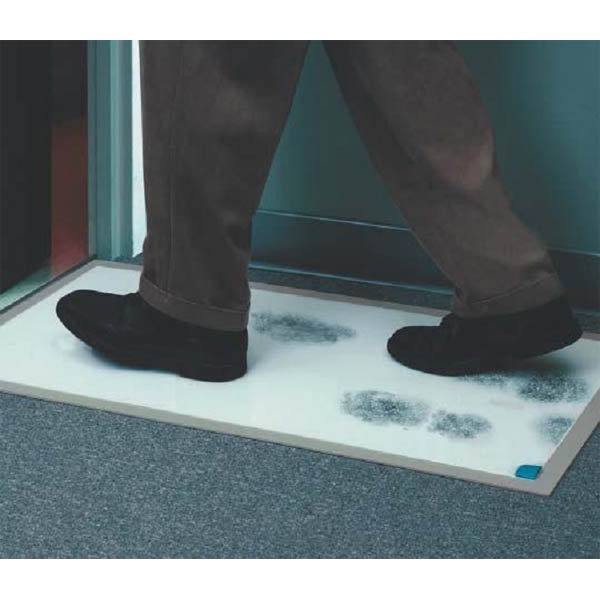 Sticky Mat Base is designed as a cost effective alternative to the Tacky Mat Frame. The Tacky Mat Base is composed of a rigid pvc foam, with a rubber non-skid backing. Applications include carpeted areas, offices, homes, etc. The Sticky Mat base measures a thin 3/16" (4.7mm) in height without the mat mounted. Great for use on carpet or in areas where it is desirable to pick up the mat frequently for cleaning.
The Tacky Mat Base is designed to allow users of adhesive floor mats to mount their mats to a movable base instead of being limited to securing the mat directly onto the floor.

Sticky Mat Bases permit the installation of mats in areas where it is not normally possible to adhere mats directly to the floor, such as carpeted areas.

In addition, a Tacky Mat Base is convenient to use in areas where it is important to be able to mop or clean the areas where the floor mat is located.

Sticky Mat Bases come in a wide assortment of sizes and colors for greater flexibility in meeting your specific application requirements.
Colors: white, beige, or gray
Sticky Mat Base - Sizes
Base size (in.)
20x38
26x32

26x38

38x38

20x47

26x47

28x47

38x47

38x62

(centimeters)

50x96

66x81

66x96

96x96

50x119

66x119

71x119

96x119

96x157

Fits mat size

18x36

24x30

24x36

36x36

18x45

24x45

26x45

36x45

36x60

(centimeters)

45x91

61x76

61x91

91x91

45x114

61x114

66x114

91x114

91x152
DOCUMENTS