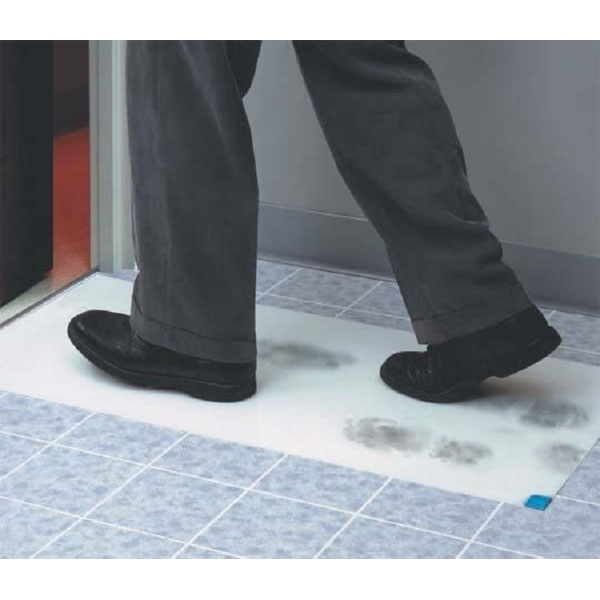 Tacky Mats prevent contamination and particulate matter from entering controlled working environments. They are used extensively in medical-device, computer, pharmaceutical, electronics, aerospace, instrumentation and nuclear industries. Tacky Mats are also used in manufacturing facilities, warehouses, construction and recreational areas, and anywhere where it is desirable to trap dust and dirt. Fast, effective, and easy to use, each mat is composed of multiple layers of tough, polyethylene film, laminated together into a stack. Each layer is coated with a custom high tack adhesive, and the working surface is smooth. When the surface is contaminated, simply peel off the top layer and discard.
Although Sticky Mats do not require the use of a frame, they fit Sticky Mat Frame as well as most other frames on the market. The individual sheets are 1.5 mil clear polyethylene with a colored vinyl backing laminated to the last layer. Our premium backing is a flexible, double coated vinyl with acrylic adhesive on the bottom surface of the mat. NO adhesive residue will remain on the floor after final removal, however, the mat will be held securely to the floor when in use. For applications where economy is most important, we offer a polyethylene backing as an alternate to the vinyl. Other features include alternating colored tabs and private label. Our Bevel mat is a 14 degree bevel of all 4 sides for safety and ease of cart handling.
Tacky Mats come in two common colors - white and blue. We also can supply yellow, gray and clear mats. Tacky Mat is typically packaged 120 sheets per case (30 sheet mats packed 4 mats per case, 40 sheet mats packed 3 mats per case, 60 sheet mats packed 2 mats per case). Alternative packaging is available upon request.
Tacky Mat - Sizes

Standard Sizes

18"x36"

24"x30"

24"x36"

36"x36"

18"x45"

24"x45"

26"x45"

36"x45"

36"x60"
(centimeters)
45x91
61x76
61x91
91x91
45x114
61x114
66x114
91x114
91x152

Common Custom Sizes

18"x24"

26"x36"

26"x72"

36"x72"

Many other sizes are available, please specify size to obtain price and delivery.
Authoritybuy supplies contamination control products for Cleanroom such as cleanroom tacky mat, sticky mat roller, cuff-sealer, and motorized shoe cleaner.
A Cleanroom is an environment where airborne particulates such as dust particles and other impurities are controlled through the use of HVAC (Heating, Ventilation, Air Conditioning) systems and an exchange of highly filtered air by HEPA (high efficiency particulate air) filters and through minimization of activities that generate particles.
Cleanrooms are used extensively in semiconductor manufacturing, biotechnology, life sciences, hospitals and other fields that are very sensitive to environmental contamination. A code of practice needs to be in place and strictly followed to upkeep the cleanroom standard including basic dust/dirt control between plant to office.
The measure of the air quality of a Clean Room is described in U.S. Federal Standard 209:
Class 10000 - where there exists no more than 10,000 particles larger than 0.5 microns in any given cubic foot of air. It is equivalent to an ISO class 7 cleanroom.
Class 1000 - where there exists no more than 1000 particles larger than 0.5 microns in any given cubic foot of air. It is equivalent to an ISO class 6 cleanroom and it is the Standard clean condition (US Fed. standard 209 d).
Class 100 - where there exists no more than 100 particles larger than 0.5 microns in any given cubic foot of air. It is equivalent to ISO class 5 cleanroom.
Class 10 - Ultra clean conditions in restricted areas. It is equivalent to ISO class 4 cleanroom.
Clean Room Classes and their Typical Uses:
Class 1 & 10 - Stem cell research, Semiconductor wafer fab, Production laboratories for Electronic Integrated Circuits ...
Class 100 - Production areas for Photo labs, Medical implants, Hard disk drive fabrication ...
Class 10,000 - Semiconductor assembly processes prior to encapsulation of the die, Production locales for TV tubes, Hospital operating theaters ...
Class 100,000 - Semiconductor post-encapsulation assembly and test processes, Production of ball bearings ...
People who work in clean rooms must wear special protective clothing called "bunny suits" that do not give off lint particles and prevent human skin and hair particles from entering the room's atmosphere. A special gowning procedure is required prior to entering the cleanroom.
Example Gowning Procedure:
Lab worker uses Ultra-Clean Motorized Shoe Cleaner to clean the shoe sole.
Wear a Tyvek frock jacket and zip or snap it up all the way. The bouffant cap (hair net) goes over the ears, with hair tucked underneath.
Select shoe-covers. Sitting on the bench facing the rack, keep uncovered shoes to the left and covered shoes to the right, swinging your foot from one side to the other as you put the cover on. Be sure they cover the entire shoe.
Put on a pair of light weight Nitrile or Latex disposable gloves.
Use Cuff Sealer to seal the area between the glove and the garment.
Step on the adhesive Tacky Mat at least three times before entering the lab.
Enter the lab directly and let the door close. Never hold the door open.
Use heavier Trionic acid/solvent gloves on top of the Nitrile gloves when using acids, caustics, or organic solvents. NOTE: Nitrile gloves rip easily after exposure to Acetone. Wear safety goggles with a side shield, Double gloves (Nitrile plus Trionic), Acid Apron when using acids or caustics
Never remove garments in the cleanroom; if you need to remove a sweater, return to the gowning room first.
DOCUMENTS