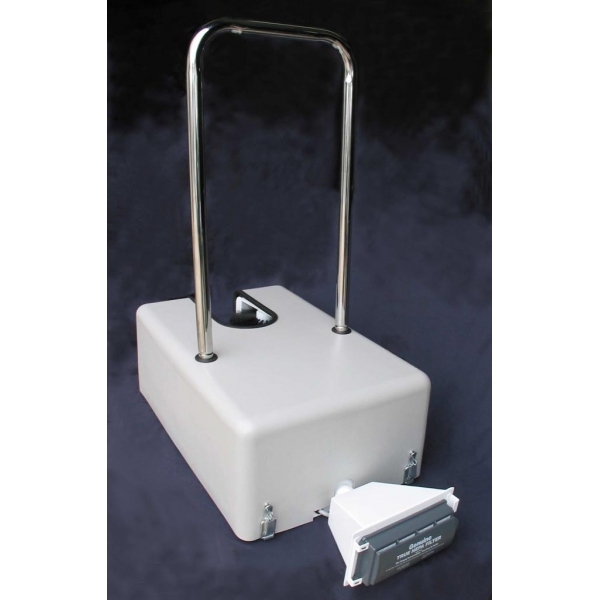 Ultraclean Motorized Shoe Cleaner
Ultraclean Motorized Shoe Cleaner provides the most effective means for removing gross contamination from shoes before using Sticky Mats. The Motorized Shoe Cleaner has five internal brushes (flexible nylon above, and tough fiber below) which vigorously scrub every part of the shoe-seams, welts, cracks, upper, sole, behind the heel, and at the heel/sole juncture. An optional HEPA filter attachment can be installed on the Motorized Shoe Cleaner.
Ultraclean motorized shoe cleaner video demo
The smooth uncluttered exterior design permits no contamination from the unit itself. The convenient, waist-high handle turns the brushes on/off, as well as providing support for the user. The basic model VA is completely self-contained with its own internal vacuum system, filter, and disposable bags for collection and removal of contaminants – no external accessories are required. Where central vacuum systems are available, Model SA provides a solenoid valve in place of the internal vacuum producer for simple, quick connection to the central system. Both models have an adjustable speed control inside the unit for engineers or supervisors to adjust brush speed from low to high for optimum results.
Motorized Shoe cleaners can be used singularly or in multiple units. The combination of the Motorized Shoe Cleaner followed by Tacky Mats provides an unsurpassed level of shoe sole decontamination.
PRODUCT ADVANTAGES
Extends the life of Sticky Mats
Smooth Non-Contaminating design
Simple to operate, maintenance free
Five automatic adjustable speed brushes
Optional HEPA filter attachment
DOWNLOADS:
Ultraclean Assembly Instruction
Ultraclean Maintenance Schedule
Ultraclean Valve Certification