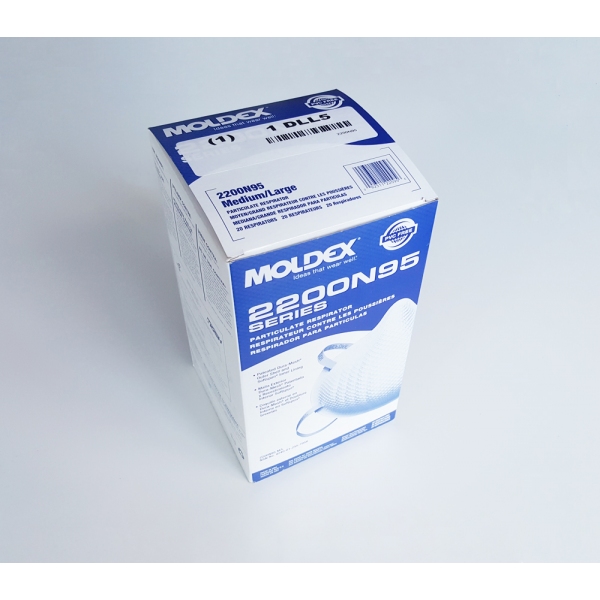 Moldex 2200N95 Particulate Respirator N95 Mask NIOSH
The Dura-Mesh shell, exclusive to Moldex protects the filter media so it stays cleaner-looking longer. The shell resists collapsing, even in heat and humidity so the respirator holds its shape longer. The result is fewer respirators used and lower costs.
Moldex molded nose bridge provides the wearer an easy comfortable fit. There's no metal noseband to adjust, and the seal is maintained with less pressure. The Softspun® lining is soft to the touch, which means workers won't mind wearing it for an entire shift.
Just like people, Moldex particulate respirators come in a variety of sizes. Moldex disposable respirators cover the majority of your employees with up to three distinct shapes and sizes for a diverse workforce.
Features
Dura-Mesh

®

shell resists collapsing in heat and humidity
Molded nose bridge seals easily without a metal noseband
Facepiece is naturally contoured for less pressure
Straps are securely attached so they don't break at the seal
Softspun

®

lining for increased comfort and durability
Soft foam nose cushion for added comfort
Available in three sizes to fit more workers and increase OSHA compliance
NIOSH certified to have a filter efficiency of 95% or greater for non-oil based particulates
Certified under 42CFR84
Meets heat and flame resistance in accordance with ANSI/ISEA 110-2009 Section 7.11.1
100% PVC-Free, like all Moldex products & packaging - for a greener alternative