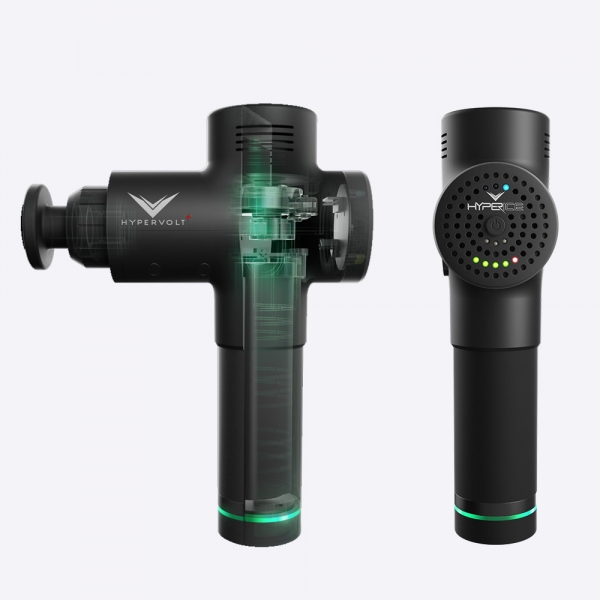 Hypervolt Plus Percussion Therapy Vibration Massage Device
HYPERICE HYPERVOLT PLUS
MORE POWER, SAME QUIET PRECISION
The Hypervolt Plus includes all the features of the original Hypervolt percussion massage device, but with 30% more power at three speed options: 30 Hz, 40 Hz, and 53 Hz.
Lightweight, cordless, and optimized for precise self-myofascial release, the Hypervolt Plus is powered by a rechargeable lithium ion battery, delivering over 2 hours of use per charge. Like the standard Hypervolt, the high-torque motor also features Hyperice's patented Quiet Glide™ technology, enabling relaxing therapeutic treatments virtually anywhere, disturbance free.
Targeted deep tissue massage therapy with the Hypervolt Plus can help relieve common muscle pain and stiffness, improve range of motion and blood flow, and reduce injury risks down the road. With five interchangeable head attachments, it's also easy to customize your recovery work to any specific region of the body, opening up more options than a standard foam roller or other static mobility tools.
Customers can add an optional HyperVolt Carrying Case to their order via the menu on this page. The case's custom inlay holds the Hypervolt, (5) head attachments and battery charger.
Specifications:
Cordless Vibration Massage Device
30% More Power than original Hypervolt gun
Size: 9.34" x 6.34" x 2.5" (237 mm x 161 mm x 63.5 mm)
Powerful high-torque 90-watt motor featuring Quiet Glide™ technology
Applications: Self Myofascial Release, Mobility, Recovery
5 head attachments
3 speed settings: 30 Hz, 40 Hz, 53 Hz
Lithium Ion Battery - 2+ hours of use per charge
Lightweight, ergonomic design (3 LBS)
Optional Custom Carrying Case
Matte Black design