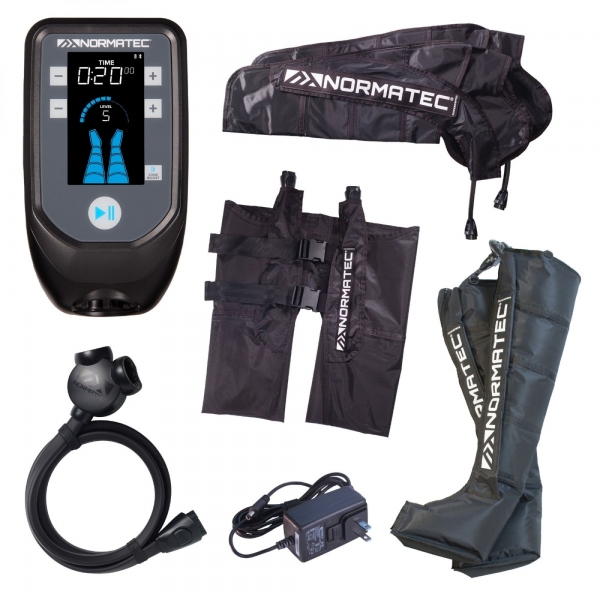 NormaTec PULSE 2.0 Leg Recovery System
NormaTec PULSE 2.0 has a one-of-a-kind massage technique for efficient & effective warm up & recovery for athletes. The massage employes three different techniques. The first technique is the pulsing motion. Compared to the compression technique, this is a more effective approach to moving fluids during a massage. The next massage used is the gradients technique. This holds fluids to keep them from traveling up the veins the wrong way. This allows for constant pressure instead of pressure that tapers off. The final technique is the distal release. This releases pressure as soon as possible for normal circulatory flow, but enables maximum rest times without too long of a pause between compression cycles.
Package Options
The NormaTec PULSE 2.0 has four different package options to meet your recovery needs. The Leg Recovery System freshens up legs faster for warm up & recovery sessions. The Leg & Hip Recovery System takes the entire lower body through a massage. The Leg & Arm Recovery System creates a massage session for arms & legs to recharge. The Full Body Recovery System creates a warm up & recovery session for the entire body.
Complimentary Technology
The NormaTec PULSE 2.0 products include a Bluetooth app to enable connection to your smartphone. This will allow for an integrated recovery session to easily work into your training plan. It will also allow for user control of the massage session.
Details
Speeds up recovery & enhances blood flow with a new massage technique for an increased range of motion & lessened pain sensitivity
Employs an unrivaled series of massages that includes three techniques: pulsing, gradients, and distal release
Transports fluids better than other, more common compression techniques
Has an app for smartphones that allows for a customizable recovery session through a Bluetooth connection
Comes in four different varieties: Leg Recovery System, Leg & Hip Recovery System, Leg & Arm Recovery System, and Full Body Recovery System
Pulse 2.0 Control Unit:
Light, handheld control unit now 27% smaller for better portability
Easy-to use digital interface
New Bluetooth enabled app
Custom compression levels from 30 to 110 mmHg
Customizable time, pressure, and zone settings
Zone Boost feature
World voltage 12 V power and rechargeable li-ion battery
Two year warranty on all components.
2 Compression Boots:
Full-length leg coverage with overlapping segments for balanced compression of entire leg
Made from durable nylon
Convenient zipper for quick removal and easy cleaning
Compression tubing already fully integrated into boots
Two year warranty on all components.
Size: Short, Standard, or Tall
SIZE CHART:
| Size | Short | Standard | Tall |
| --- | --- | --- | --- |
| Height | 5'3" and under | 5'4" - 6'3" | 6'4" and over |
Documents