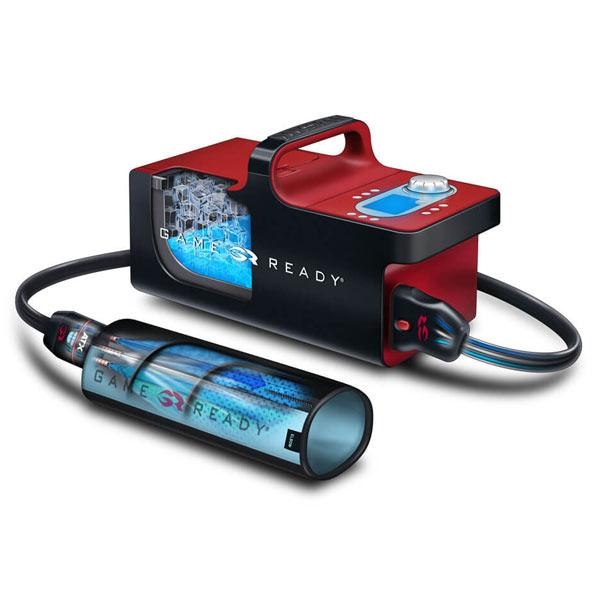 Game Ready GRPro 2.1 Cold & Compression Therapy For Injury Healing and Recovery Ice Machine
Game Ready is the global leader in active compression and cold therapy recovery and injury healing. Whether you are recovering from surgery, are a world class athlete, or a physical therapist, physician, or chiropractor, the Game Ready Ice Machine is meant for you. Conditioning, practicing long hours, enduring pain and suffering injuries takes a toll on your body. Game Ready is changing the game in sports recovery and injury healing. Designed from the same flexible garment technology that NASA used to control body temperatures in space. Game Ready combines Ice Therapy and Compression Therapy into one easy-to-use device. The control units rapidly circulate ice water through the wraps and couple it with compression. This combination provides a better therapy for musculoskeletal injuries. As well as relieving symptoms such as pain and swelling, Game Ready helps stimulate natural tissue healing and actually speeds up recovery. Game Ready can cover the body from head to toe.
Features
Thousands of physicians, physical therapists, and teams in virtually every professional sport choose the Game Ready system because:


In a class of its own – clinically proven, evidence-based efficacy

Reduces pain and swelling so patients work harder in PT

Comfortable and safe

Increases patient satisfaction – patients look for Game Ready by name

Treat two patients at a time to maximize efficiency

Easy to operate

Works for horses and vet use
ADJUSTABLE COMPRESSION
Three settings of cyclical pneumatic (air) compression or the option of no compression:
High (5 to 75 mm Hg)

Approximately 2 to 3 minutes of inflation and 1 minute of deflation.

Medium (5 to 50 mm Hg)

Approximately 2 to 3 minutes of inflation and 1 minute of deflation.

Low (5 to 15 mm Hg)

Approximately 4 to 5 minutes of inflation and 1 minute of deflation.
ADJUSTABLE SET-POINT COLD
Provides consistent temperature across the wrap, improving patient comfort and safety. Cold therapy between 35°F to 50°F (when control unit reservoir full of ice).
Product Benefits:
Combines both cold and compression therapy in one unit for improved efficacy.

Circumferential wraps provide better surface contact for consistent cooling.

Faster, deeper cooling slows cellular metabolism to reduce tissue damage.

Active cooling and compression therapies offer more therapeutic benefits.

Portable control unit allows easy application wherever it?s needed.
What's included
Cold and Compression Control Unit

AC Adapter

Power Cord

6 foot Connector Hose

Welcome Packet (User Manual and other Information about the system)
TECHNICAL SPECS
Dimensions: 7.5" W x 16" L x 7.75" H (19cm W x 40.6cm L x 19.7cm H)
Weight: (Empty) 7.3 lbs (3.3kg)
Hose Connections: 1 port